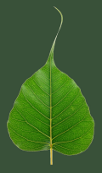 The greatest gift is the
gift of the teachings

Dharma Talks

2001-10-23 Awakening From The Trance 59:10
Tara Brach
The sense of being a "separate self" seems quite real and both filters and contracts our moment to moment experience of life. This talk investigates how the compelling show of separate self arises and how we can recognize and relax into our naturally radiant, compassionate and unconfined awareness.
Sevenoaks Pathwork Center



2001-10-17 Exploring Impermanence 60:06
Narayan Helen Liebenson
The Buddha pointed to impermanence-- the changing nature of things-- as one of the basic laws of nature. The events of September 11th have highlighted this truth dramatically for us. This talk encourages the possibility of softening, seeing clearly and being present to the truth so that we can continue to learn through deepening our understanding of this law of impermanence.
In collection In Response to September 11



2001-10-11 Seven Factors Of Enlightenment 55:43
Adrianne Ross
Developing and balancing the seven factors of awakening [mindfulness, investigation, energy, joy, calm, concentration and equanimity] to support life and practice.