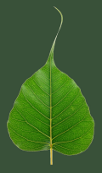 The greatest gift is the
gift of the teachings

Various's Dharma Talks

2011-07-31 One Earth Sangha
One Earth Sangha is oriented toward Buddhist and mindfulness practitioners seeking dharma, practices and community around care for the Earth. See their website here: One Earth Sangha

Follow Your Heartbreak 51:12
James Baraz
Inspired by Andrew Harvey's book A Guide to Sacred Activism. The journey of transformation, both personal and global, includes our hearts opening to all the suffering we encounter and letting our heart be shattered and break open to new possibilities. This is a natural and essential component of true awakening. This process is explored on different levels: our own dharma practice, the classical Progress of Insight and what Harvey calls "The Dark Night of the Species."

(On Climate Change) Earth's Crisis - On the Edge of the Roof 1:19:32
Tara Brach
This talk views the ecological dis-ease of our planet through the lens of our evolutionary unfolding. We explore the egoic trance that has precipitated the destruction of our environment, and the inner practices of presence that enable us to respond from love and wisdom.

All In This Together 57:20
Catherine McGee
The inter-relationship between inner and outer. Knowing that we belong as a basis for meeting and responding to the suffering of our world, both inner and outer.

Connecting Inner and Outer Responses to Climate Change 37:37
Donald Rothberg
At this time of climate disruption, we need powerful responses--integrating more "inner" spiritual practices and principles, on the one hand, with skill in "outer" responses, on the other. This integration or marriage can happen in many ways as we participate in the "great turning"--whether our primary emphasis, to use Joanna Macy's analysis, is stopping further damage from occurring, transforming our institutions, or helping to shift consciousness. Without this integration, however, spiritual practice runs the risk of becoming a kind of middle-class escapism and activism runs the risk of being caught in self-righteousness, attachment to views, demonization of the "enemy," and burnout. We need a new integration! We look at several dharma principles that can be the basis for such an integration, consider briefly how Spirit Rock is responding (and might respond further) to climate issues, and especially look at the figure of the bodhisattva.

The Broader Context of Mindfulness 57:25
Mark Coleman
Mindfulness is so much more that attention. Supporting wholesome qualities like patience and equanimity, Right Mindfulness specifically develops wise action in our lives and in the world.